On Sunday Nov 18th VSSJ had a tour of Mom's Organic Market in Cherry Hill NJ.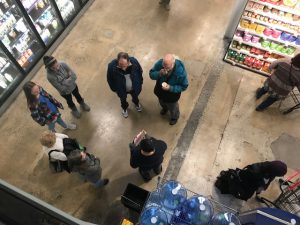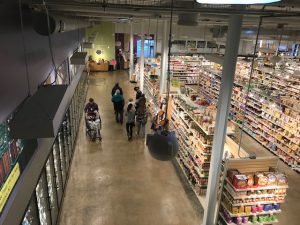 We broke up into two groups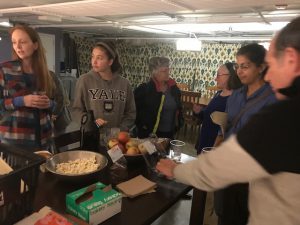 Mom's does the research for you: they will not sell any food that has food coloring, or other toxic ingredients. See their watchlist of 109 ingredients by clicking here.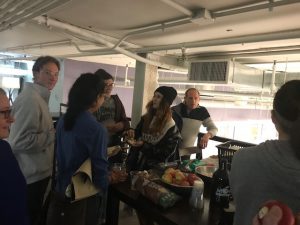 While the first group was on their tour, the second group had a nice time chatting and sampling the delicious snacks provided by Mom's. (popcorn, veggie straws, cookies, blueberry muffins, lemon cake, apples and kombuchu. Yum!) plus everyone received a Mom's reusable shopping bag!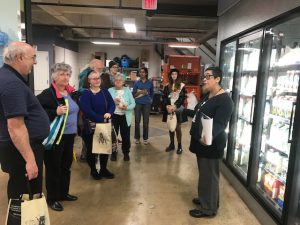 Did you know that Mom's purpose is to protect and restore the environment? Everything that they use in their store is either recyclable or compostable. They give away completely compostable cups of water. Their straws are compostable as well as their plastic produce & dry goods bags. You can bring just about anything in to their stores to be recycled: bar wrappers, batteries, Brita filters, cell phones, compost, drink pouches, food squeeze pouches, glasses, health and beauty packages, natural cork, plastic, shoes, snack bags, toothbrushes, and more.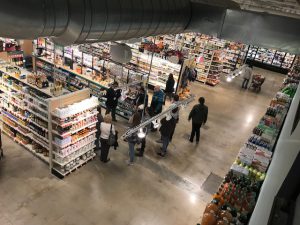 All of the produce in the store and all of the food that they sell in their Cafe is organic. Their cafe, Naked Lunch, is vegetarian (mostly vegan) and all food is prepared with wholesome ingredients.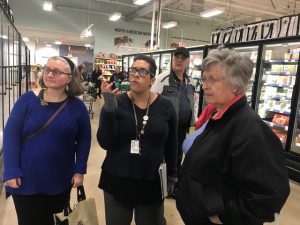 Thank you Kelly for such an awesome tour! Great job! You definitely have new customers from VSSJ.
Mom's core values…
FIND YOUR GRATITUDE:
Being fortunate is a state of mind
Perception changes everything
WE RISE BY LIFTING OTHERS:
We can't help everyone, but everyone can help someone
Esteem comes from doing esteem-able acts
Compassion is the antidote to judgement
WE HAVE THE COURAGE TO GROW:
Self-awareness is the foundation for change
Embrace discomfort
Growth is a process, not an event
LET GO OF EGO:
We are teachable
Don't think less of yourself, think of yourself less
ACCEPT THE THINGS YOU CANNOT CHANGE AND CHANGE THE THINGS YOU CAN:
Live life on life's terms
The more we let go the less we suffer
REMEMBER YOUR PURPOSE:
Indifference makes no difference
Be a voice not an echo
There are so many positive things to say about Mom's. Check out their complete story by clicking here.