On Wednesday, Aug 26th Karen Burzichelli of Karen's Healing Kitchen gave a fantastic presentation on Asian-inspired cooking, featuring these recipes: Chopped Thai Salad with Sesame-Garlic Dressing, Spring Rolls, and Roasted Chickpeas and Edamame. See Recipes below. To view the video Click here.
Recipes
Chopped Thai Salad with Sesame-Garlic Dressing
Dressing:
3 cloves garlic, peeled
3 Tbsp low-sodium soy sauce
2 Tbsp water
2 Tbsp white-distilled vinegar
2 Tbsp maple syrup
1 Tbsp sesame oil
1 Tbsp lemongrass paste (or ginger)
a squeeze of lime juice
Salad:
16 oz frozen shelled edamame
5-6 cups baby kale or curly kale
3 large carrots
2 bell peppers (1 red, 1 yellow)
1 cup cilantro leaves
3 green onions
¾ cup cashews
Puree all the dressing ingredients in a food processor until smooth. Taste and adjust to fit your preferences. Transfer to a dressing jar and rinse the food processor out for use later.
Cook the edamame by boiling it for 3-5 minutes in a pot of boiling water. Drain and allow it to cool. Meanwhile, slice the kale (massage with a small amount of oil or lime juice), carrots, peppers, cilantro leaves, and green onions into thin strips or shreds.
Place the cooked edamame in the food processor and pulse five times to get a minced texture. Transfer to a bowl and repeat the same process for the cashews. Toss the kale, carrots, peppers, cilantro, green onions, edamame, and cashews together until well combined. Drizzle with the dressing, toss gently a few times, and serve immediately.
Note: The salad will stay fresh longer if you store the dressing separately from the salad ingredients, tossing them together just before serving.
Spring Rolls
rice papers
kale or spring mix
veggies (carrots, cucumbers, avocado pepper, purple or green cabbage)
thin rice noodles
Cook noodles as directed. Prepare wrappers by dipping in warm water in a shallow bowl, shake off excess water, and place on towel.
Add all ingredients and carefully roll. Enjoy with dipping sauce.
Peanut Dipping Sauce:
¾ cup creamy peanut butter
¼ cup rice vinegar
¼ cup water
⅓ cup reduced-sodium tamari or reduced-sodium soy sauce
3 Tbsp maple syrup
1½ tsp grated-fresh ginger or ½ tsp ground ginger
1 to 2 medium cloves garlic, pressed or minced, to taste
¼ tsp of any kind of hot sauce (if you want it spicy)
Combine ingredients in a mini food processor and process until smooth. Refrigerate any leftovers.
Soy-Ginger Spicy Dressing Ingredients:
1 whole lime, juiced
½ cup soy sauce
4 dates
3 Tbsp fresh ginger, minced
2-3 cloves garlic, minced
2 tsp hot sauce
Combine ingredients in a mini food processor and process until smooth. Refrigerate any leftovers. 
Roasted Chickpea and Edamame
2  16-oz cans chickpeas (garbanzo beans)
1½ cup edamame (two 10-oz steam bags if you buy them in the pods)
1–2 Tbsp of olive oil
1 tsp salt
½ tsp pepper
Preheat your oven to 400 degrees.
Open cans of chickpeas and dump into a colander. Rinse with water for about 10 seconds.
Thaw and shell your edamame (unless you bought the pre-shelled kind – in that case, just make sure they are thawed.) Lay out several sheets of paper towels, and place the chickpeas and edamame on top. Using another few sheets of paper towels, pat the chickpeas and edamame dry.
Transfer the chickpeas and edamame to a baking sheet. Drizzle with 1-2 tablespoons olive oil (or use olive oil spray), and sprinkle on salt and pepper. Mix together with your hands until the chickpeas and edamame are all evenly coated with olive oil and seasoning. Spread them out into a single layer on the baking sheet.
Bake for 15 minutes. Take out of the oven and, using a spatula, turn the chickpeas and edamame over and stir around. Spread them back out into an even layer. Place in the oven for another 15 minutes. Remove the baking sheet from the oven, and place the chickpeas and edamame on a cooling rack. Let the chickpeas and edamame cool for a few minutes before eating them.
Tofu Chocolate Pudding
1 package silken tofu (You must use silken or it won't come out creamy.)
1-2 Tbsp cacao powder
2-3 Tbsp maple syrup
Whip it up in a food processor and top with shaved dark chocolate.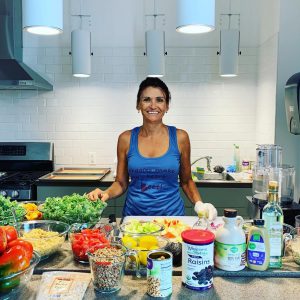 Karen has over thirty years experience as a Labor & Delivery Nurse and currently works at Virtua in Voorhees NJ. She received her BSN from Trenton State College and her Health Coaching Certificate from The Institute for Integrated Nutrition in NYC. Karen has been teaching plant-based cooking classes for over seven years. She works with clients individually and in a group setting teaching how to use a plant-based diet to prevent and reverse disease. Karen lives with her husband in Gibbstown, NJ, mother to twin girls and one granddaughter.