Passover begins the evening of March 27, 2021 this year and The Vegetarian Resource Group is the publisher of several books that feature vegan Passover recipes. Below we share three recipes with you. You can purchase these vegan cookbooks in the USA from the VRG Book Catalog here: http://www.vrg.org/catalog or in Kindle format from Amazon.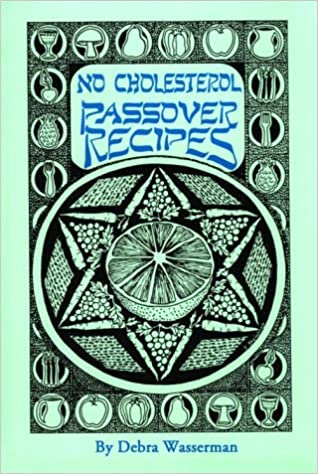 Fresh Tomato Soup (from No Cholesterol Passover Recipes, by Debra Wasserman)
(Serves 4)
1 large onion, chopped
5 small ripe tomatoes, chopped
1-1/2 cups water
½ teaspoon fresh parsley, minced
Pepper and salt to taste
Combine all the ingredients in a large pot and cook over medium heat for 15 minutes and then cool. Place mixture in a blender cup and blend until creamy. Reheat and serve hot.

Minted Carrots with Chilies (from Vegan Passover Recipes, by Nancy Berkoff)
(Serves 4-5)
1-1/2 cups sliced onions
Vegetable oil spray
1 garlic clove, minced
2 Tablespoons peeled and minced fresh ginger
2 Tablespoons seeded and minced fresh chilies or green pepper
1-1/4 pounds carrots (about 3-1/2 cups), peeled and sliced lengthwise 1-inch thick
2 Tablespoons chopped fresh mint
Place onions in a large frying pan, spray liberally with vegetable oil, and sauté over medium heat until soft and golden, about 5 minutes. Add garlic, ginger, and chilies and stir. Allow to cook for 1 minute.
Add carrots and add enough water to just cover. Cook uncovered for 15 minutes, or until carrots are tender. Add mint, cook for 2 more minutes. Serve hot.
Russian Potato and Mushroom Croquettes (from The Lowfat Jewish Vegetarian Cookbook, by Debra Wasserman)
(Serves 5)
1-1/2 pounds potatoes, peeled and chopped
5 cups water
1 onion, peeled and chopped
¼ pound mushrooms
1 teaspoon oil
1 Tablespoon water
Salt and pepper to taste
1 cup matzo meal
1 Tablespoon oil
Boil potatoes in 5 cups water until tender. Drain and mash potatoes.
In a separate pan, sauté onion and mushrooms in 1 teaspoon oil and 1 Tablespoon water over medium-high heat for 3 minutes. Mix the mashed potatoes, sautéed onion and mushrooms, seasonings, and matzo meal together in a large bowl. Form 10 burgers (croquettes).
Heat 1 Tablespoon oil in a large frying pan over medium-high heat. Fry croquettes for 8 minutes, flip over and continue frying for another 8 minutes. Serve two croquettes per person.
Don't forget, in the USA you can purchase these vegan cookbooks from the VRG Book Catalog.