On Saturday, July 17th VSSJ volunteers attended the Atlantic City Vegan Food Festival. We set up a canopy, tables and a nice display which included a name the bean and name the grain game. We had several participants that guessed all the beans and grains!! We signed up 14 new members and over 50  people signed up to receive a free veg starter guide and our weekly newsletter.
"I would like to thank all of the volunteers that pitched in to make this a successful day: Sadhna, Jessica, Maryellen, George, Lisa, Carol, Tom, Vickie, Dulcie, and Arnold."
I was so impressed with their knowledge, energy ,and excitement as they answered questions about our organization, about the vegan diet and even the old standard question of "How do you get enough protein?": …. Janet Erickson, President
Also a big shout out to our business supporters that donated items to make our membership drive a hugh success. 
Please remember to support these businesses…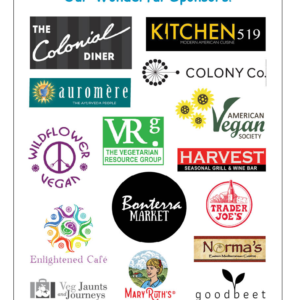 For more information about the businesses click here.
___________________________________
We arrived early to beat the crowd for setting up – there were over 100 vendors participating in the Veg Fest…
Meanwhile…. take a look at the line for people getting tickets to attend the veg fest…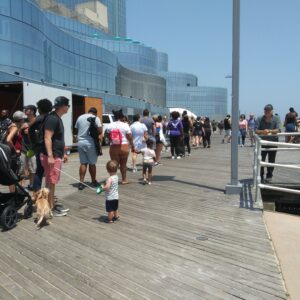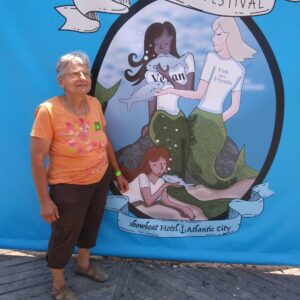 "The line was long as people waited to enter the Veg Fest.  There was much to see and lots of choices of food to eat!  It was nice to meet up with friends from North Jersey that we had not seen for a while and we enjoyed making new friends who stopped by our booth." …Mary Ellen
All set to go.
___________________________________
We answered a lot of questions
while also handing out menus for our sponsors
___________________________________
Thanks to Steve we have a little sampling of some of the music for the day:
https://www.facebook.com/steven.faris.35/posts/10219934549659260
___________________________________
"We enjoyed sunny weather, a cool breeze, sand, and waves.  We appreciated listening to live music and even a brass brand!  I personally enjoyed a veggie empanada, cashew lasagna, and crispy tofu tacos, and next year I may indulge in some sweet treats!  We were happy to talk with folks and let them know we support them in achieving their plant-based goals!"  …Volunteer
___________________________________
Time for a much needed break! First pizza, then off to the beach…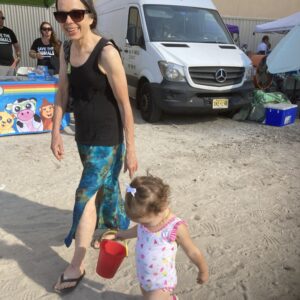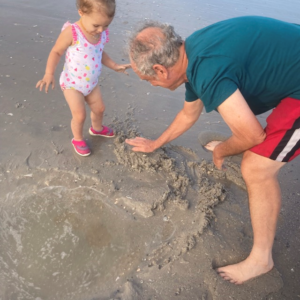 "Volunteering was fun especially making sand castles with our youngest volunteer" …. Tom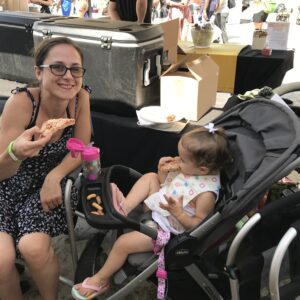 ___________________________________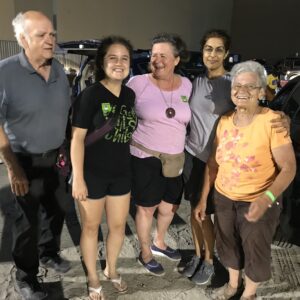 It was a long and exciting day. Hope you can make it next year!