Afternoon Potluck and Holistic Veganism Presentation
Join us for our April potluck, including special presentation on "Holistic Veganism." 
Space is limited, an RSVP is required: send an email to [email protected]
Introduction To Holistic Veganism
Holistic veganism
stands to fill the gaps between our actions and our beliefs. It picks up where ethical veganism drops off. This discussion will introduce listeners to intersectionality and inter-being in ways they may not have considered before. We will discuss how veganism is a form of ahimsa (non-violence) and how it impacts all aspects of life. Additionally, we will review the concepts behind our actions and how this holistic thinking can elevate our personal integrity. Topics under review include language, child rearing (unschooling), economics (gift economy), non-competition, zero-waste, self-care, and more. 
This is not a discussion focused primarily on getting people to go or maintain being vegan, though it will be very useful for that. Rather, it is about helping the individual identify what motivates them to be kinder to themselves and to the planet. It provides a framework for you to empower yourself and manifest change. Small changes, again, all easily connected to being vegan, have large impacts.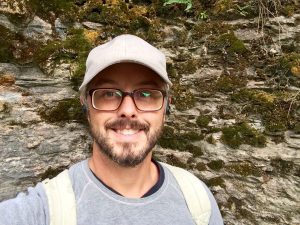 Speaker Bio: My name is Jamey Ellis and I invite to what I can promise to be a thought-provoking discussion. While I'm originally from the northeast US, I have primarily lived abroad for the last decade. It was while living in India in a sustainable community that I began public speaking about the values that guide my life. In time, I began to frame them into what I call Holistic Veganism. It is not dogmatic and, considering ahimsa is an ancient idea, not profoundly original. What is unique to our talk will be the modern application and understandings. I have spoken to thousands of people around the world and do this work as my seva (selfless service).  While I do have a professional degree, I consider my years living in India and Haiti, or as a nanny, or managing 1000's of volunteers or a cow sanctuary, to be more relevant to the topics at hand. I'm looking forward to meeting you all. 
VSSJ members:  FREE for 2019
Non-members:  $6 ($15 family)
Be green: get $1 off ($3s family) if you bring reusable place settings!
Potluck Guidelines: Each individual in your party (with the exception of children under 12) brings a vegetarian* dish to share that will feed at least 6 people (vegan** dishes preferred so that all types of vegetarians may enjoy the food), along with the recipe or a list of ingredients. To ensure there is enough food for everyone, please bring at least as much as your family is going to eat. VSSJ provides beverages, so please provide a food contribution. For safety reasons, children under 12 must be under parental supervision at all times.
*   Vegetarian = No Meat, Fish, or Gelatin.
**  Vegan = No Meat, Fish, Dairy, Eggs, Gelatin, or Honey.
Would you like to help set up or hang around after the potluck and help pack up? Email: [email protected]
To see a complete list of the benefits that you receive as a member of VSSJ  click here.