Holiday Potluck and Cookie Contest
See Potluck guidelines below.
If you are participating in the Cookie Contest, please bring 2 dozen cookies and your recipe.  First prize is a Whole Foods gift certificate for the best original recipe (you can use a recipe that's not your own as long as one ingredient has been changed).  The contest winner will receive a Whole Foods gift card and their recipe will be featured in our next newsletter. Second and third place winners will receive a prize as well!
Space is limited, an RSVP is required: send an email to [email protected]
VSSJ members:  $3 ($8 family); Non-members:  $6 ($15 family)
Be green: get $1 off ($3 family) if you bring reusable place settings!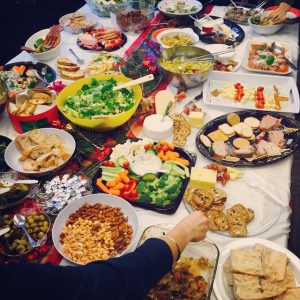 Potluck Guidelines: Each individual in your party (with the exception of children under 12) brings a vegetarian* dish to share that will feed at least 6 people (vegan** dishes preferred so that all types of vegetarians may enjoy the food), along with the recipe or a list of ingredients. To ensure there is enough food for everyone, please bring at least as much as your family is going to eat. VSSJ provides beverages, so please provide a food contribution. For safety reasons, children under 12 must be under parental supervision at all times.
*   Vegetarian = No Meat, Fish, or Gelatin.
**  Vegan = No Meat, Fish, Dairy, Eggs, Gelatin, or Honey.
Would you like to help set up or hang around after the potluck and help pack up?
please email: [email protected]