Potluck and Cooking Contest
About the Cooking Contest:
(You do not need to participate in the contest to attend the potluck. Just follow regular potluck guidelines below)
Join us in celebrating a classic comfort food–macaroni and cheese! Put on your aprons and whip up a batch of your best vegan macaroni and cheese. Be as creative, or traditional, as you please-just leave out the dairy!
Please bring enough for all potluck attendees to sample (recommended pan size: 9″x13″), and vote on their favorite. Prizes will be awarded to first, second and third place winners.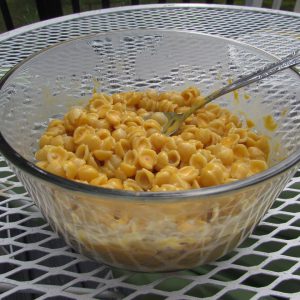 About the Potluck:
Please RSVP: Call or text Maryellen: 609-744-8328 or email: maryellen@vssj.com.
VSSJ members:  FREE for 2019 (To see a complete list of the benefits that you receive as a member of VSSJ click here)
Non-members:  $6 ($15 family)
Potluck Guidelines: Each individual in your party (with the exception of children under 12) brings a vegetarian* dish to share that will feed at least 6 people (vegan** dishes preferred so that all types of vegetarians may enjoy the food), along with the recipe or a list of ingredients. To ensure there is enough food for everyone, please bring at least as much as your family is going to eat. VSSJ provides beverages, so please provide a food contribution. For safety reasons, children under 12 must be under parental supervision at all times.
*   Vegetarian = No Meat, Fish, or Gelatin. 
**  Vegan = No Meat, Fish, Dairy, Eggs, Gelatin, or Honey.
Would you like to help set up or hang around after the potluck and help pack up? Email: volunteer@vssj.com